Project O returns to the stage in 2017 and will tour in three European cities:
"gelingt es… bereits Zuschauer ab fünf Jahren den Zugang zum zeitgenössischen Tanz zu ermöglichen und bietet auch dem erwachsenen Publikum eine vergnüglishe Unterhaltung" (Tageblatt, 19 Apr 2010)
__
"Les uns cherchaient des explications sur comment bougeaient les danseurs, les autres étaient simplement fascinés par ce mélange extraordinaire de musique, input multimédia, et danse moderne.  (…) Quel bonheur de voir mes élèves attentifs et interessés pendant toute la durée du spectacle"
(A pre-primary school teacher)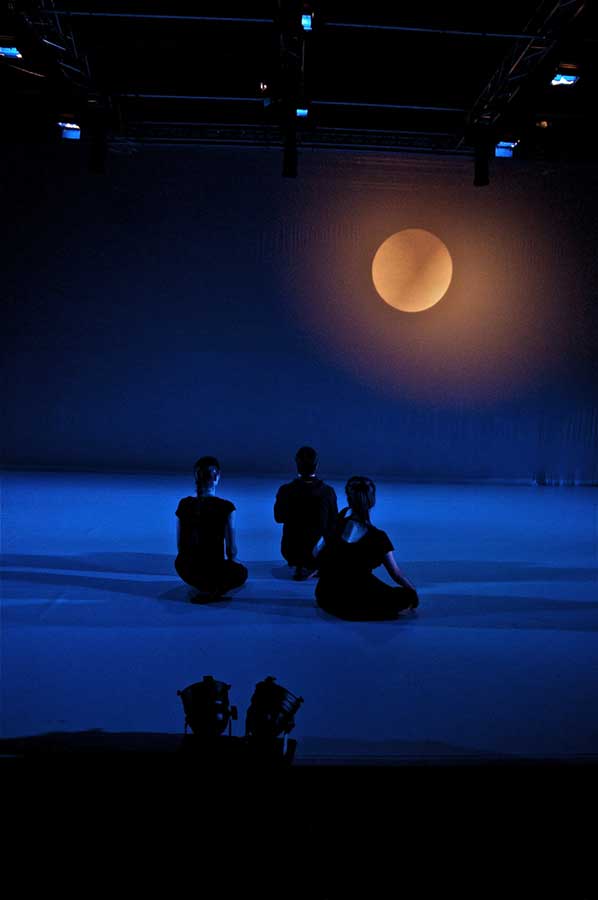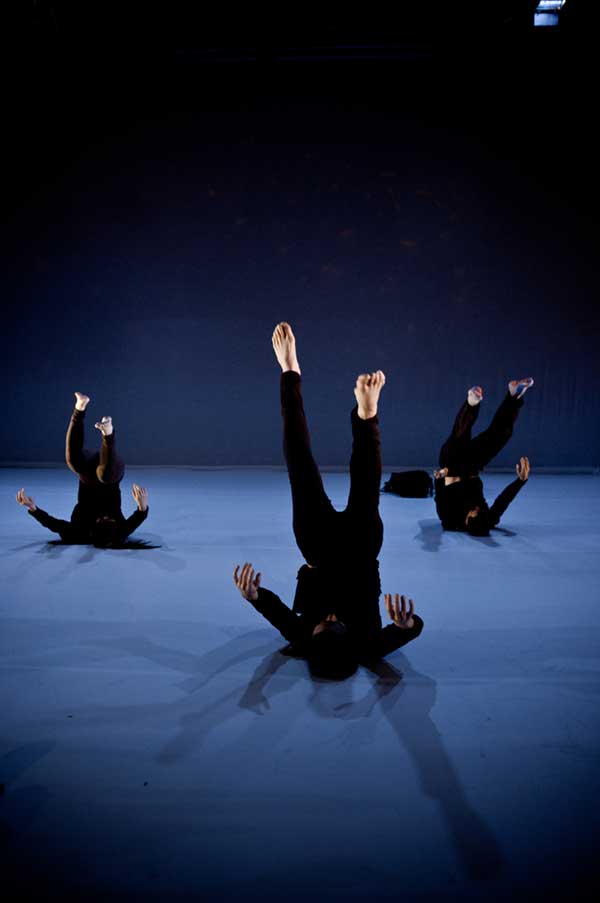 A 2010 creation
CarréRotondes, Luxembourg
« Project O » is a charming modern fairytale performance for young audiences aged 4+. Three dancers and a musician are on a treasure hunt in search of the moon that has disappeared. They enter into a dream-like space where games and surprises are played out in an alternating world of reality and abstract. Will they find the moon, and will they place it back in the sky?
With influences from traditional Butoh, contemporary dance and a hint of playful acrobatics, Project O flows from simple rituals to fast paced contemporary urban movement. It melts into surreal and digital imagery, while children's games and their rules lead the performers into a fun and vibrant floor-projection game.
Duration: 40 min.
For all audiences from age 4 – 99

Direction, concept: Rajivan Ayyappan
Choreography: Emanuela Iacopini, Yuko Kominami
Interactive media design: Matsuo Kunihiko
Sound design: Rajivan Ayyappan, Emre Sevindik, Tomas Tello
Light design: Nico Tremblay
Interpretation: Emanuela Iacopini, Yuko Kominami, Samuel Meystre,
Rajivan Ayyappan
External eye: Laurent Dupont
Production coordinator: Marinella Rinaldis
Coproduction: (Carré)Rotondes, Centre de Création Chorégraphique Luxembourgeois TROIS C-L, VEDANZA. With the support of: Japan Foundation, Sacem, Dance Science Net, Conservatoire de la Ville de Luxembourg.
International touring sponsored by: Ministère de la Culture Luxembourg, Fonds Culturel National Luxembourg, Embassy of Luxembourg in Berlin, Embassy of Luxembourg in Ankara.
Diffusion: diffusion@vedanza.org