A monthly event, Live Room Series include concerts and performances featuring contemporary artists meeting and playing together spontaneously.
20 October 2018
Performing artists:
Florence Augendre – Movement/dance
Rajivan Ayyappan – sounding objects/electronics

29 September 2018
Performing artists:
Franck Hemerle, Emanuela Iacopini, Sophie Langevin, Rajivan Ayyappan, Emre Sevindik,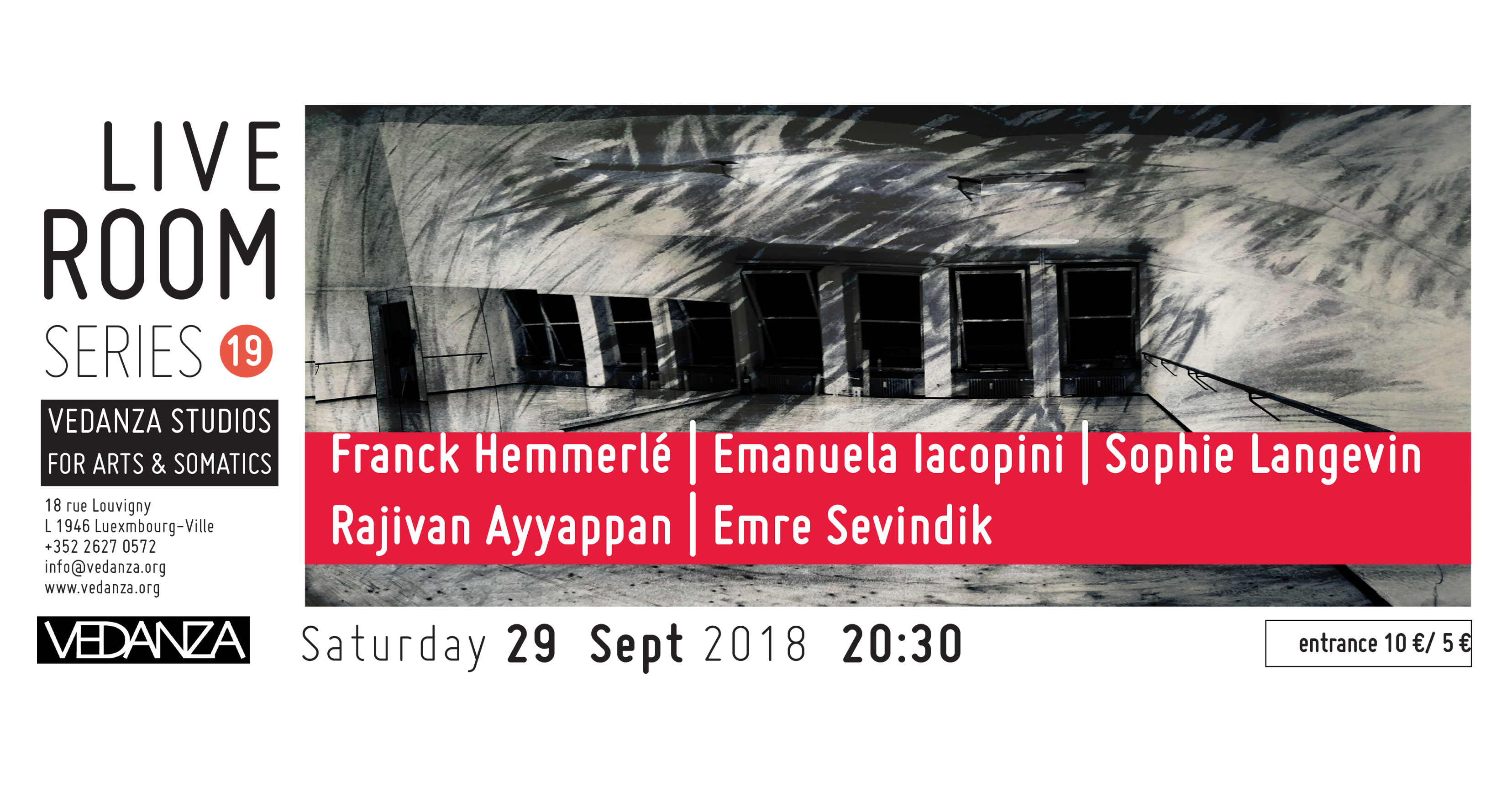 21 July 2018
Performing artists:
Emanuela Iacopini, Emre Sevindik, Rajivan Ayyappan and Nicholas Elliot
16 June 2018
Performing artists:
Emre Sevindik
Franck Hemerle
Rajivan Ayyappan
Sophie Langevin

19 May 2018
Performing artists:
Sascha Ley
Jeanna Serikbayeva Larosche
Christophe Reitz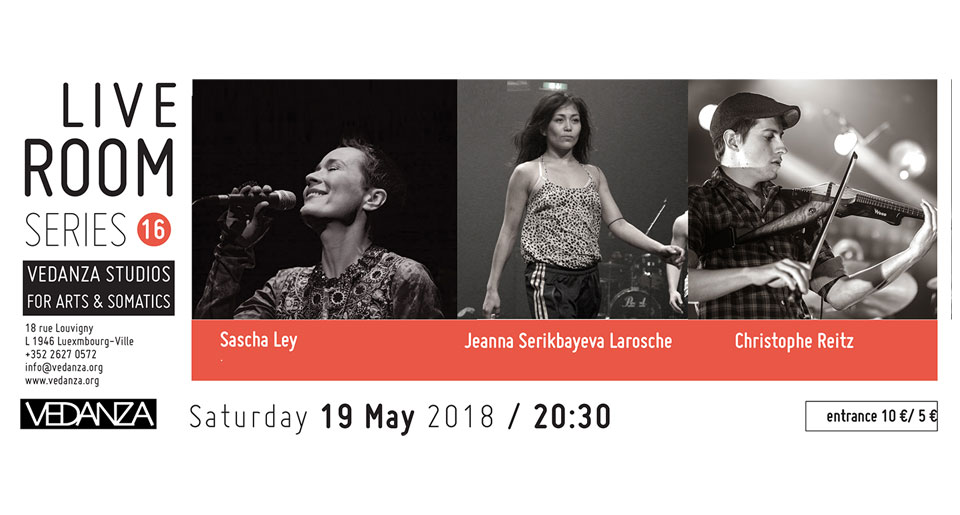 6 April 2018
Performing artists:
MOODS:
Dhamien Schmutz : tablas, percussions and vocals.
Reno Daniaud : indian slide guitar and vocals.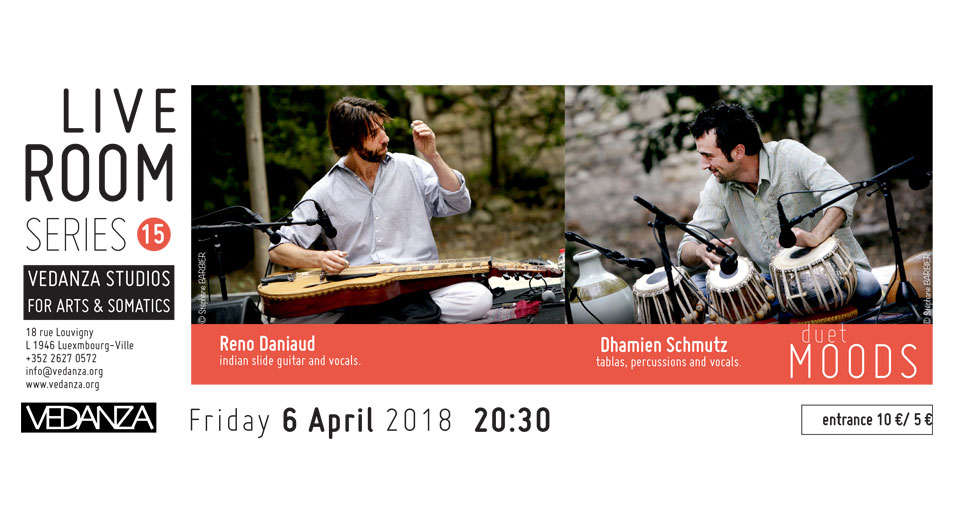 17 March 2018
Performing artists:
Mitsuaki Matsumoto (string instrument)
Rajivan Ayyappan (sound-board electronics)
Emanuela Iacopini (dance)
Franck Hemmerle (percussions)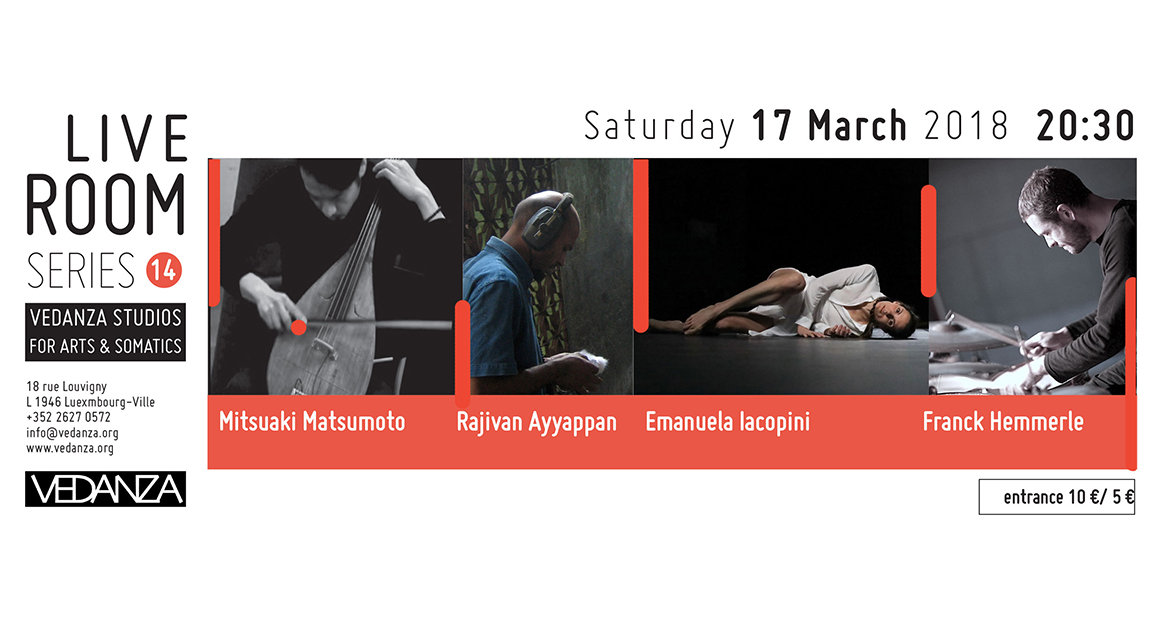 20 Jan 2018
performing artists:
Sayoko Onishi – Butoh
Emmanuel Fleitz – Double Bass
Melting Pol – Video Mapping
Emre Sevindik – Electronics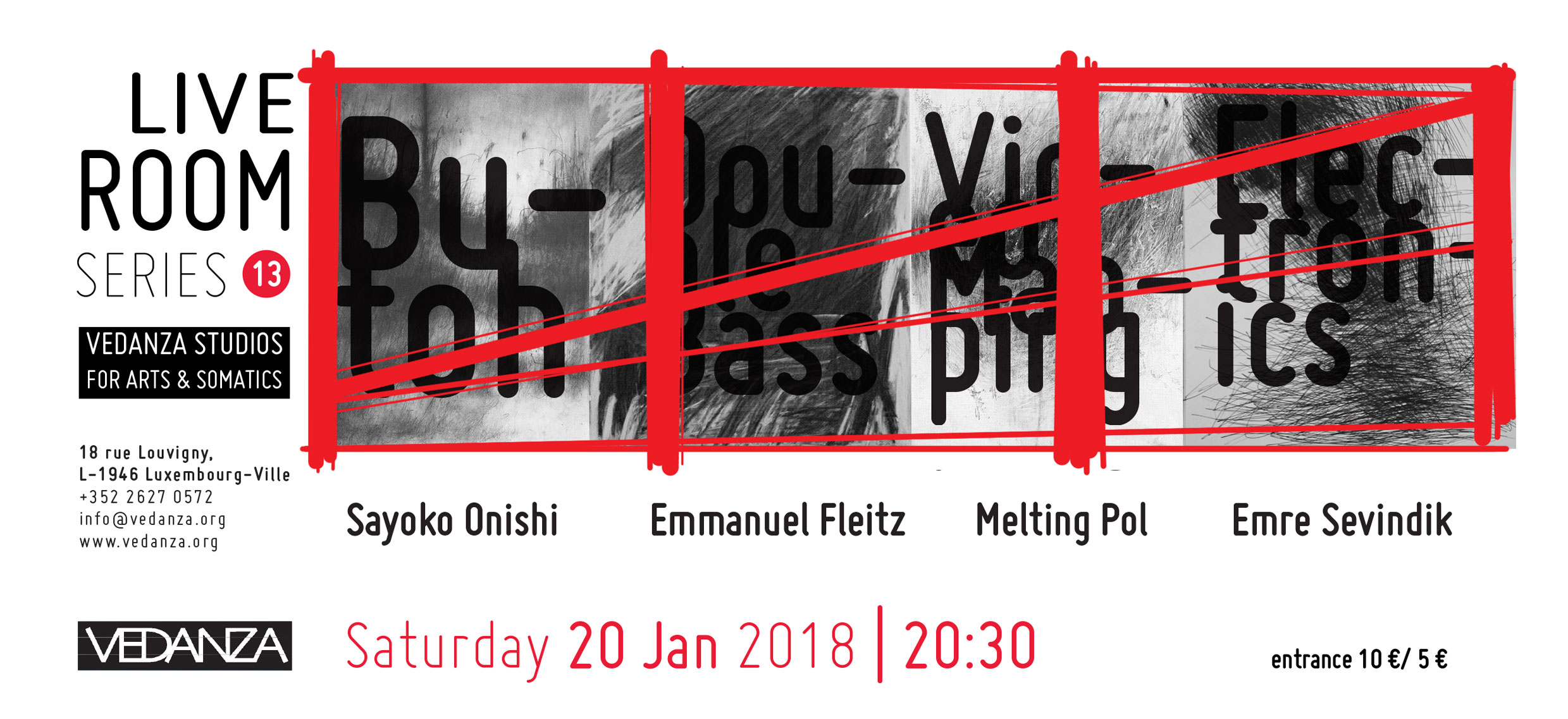 18 Nov 2017
Gian franco Celestin .     Nico Tremblay .     Rajivan ayyappan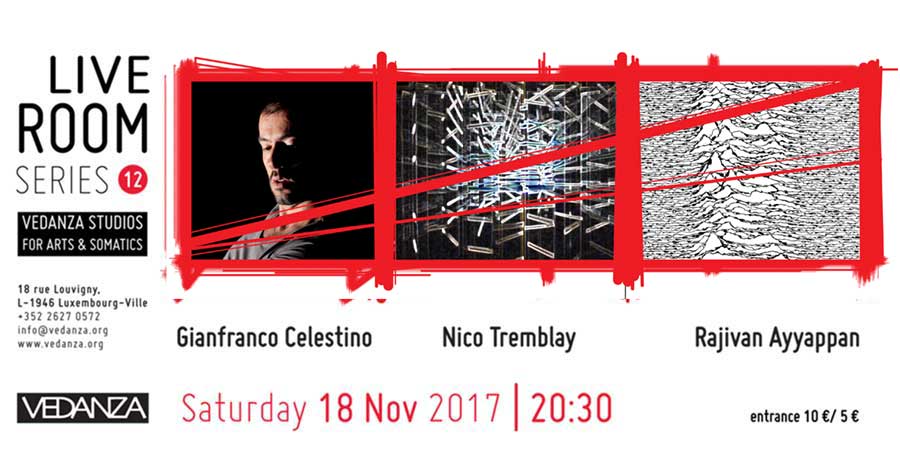 21 Oct 2017
Anne Wirth – movement 
Elric Vanpouille – analogue sound boards
Emanuela Iacopini – movement
Emre Sevindik – guitar and electronics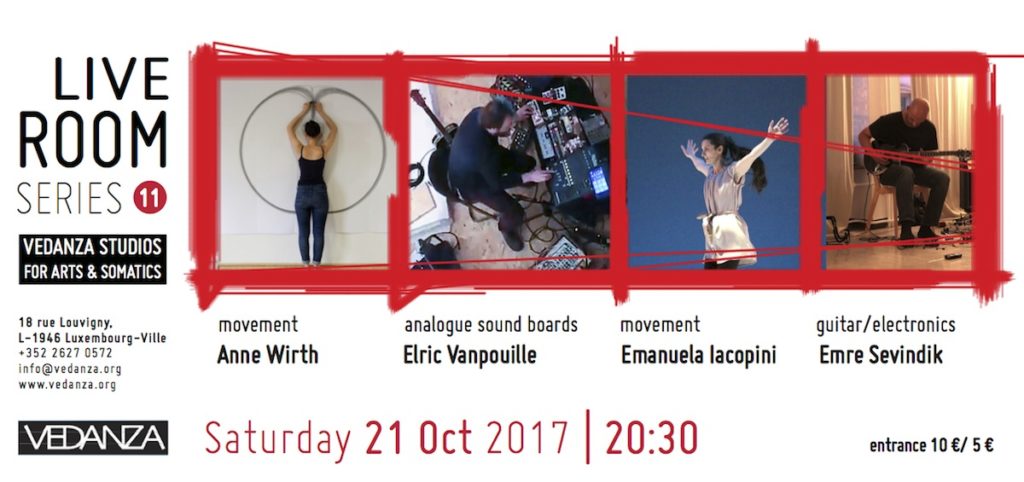 16 Sept 2017
Gabrielle Weissen – movement – coming from a visual arts backround she turned to dancing for a more direct approach with the public and the space surrounding her. Butoh and improvisation are forming the base of her dance.
Quentin Conrate – percussion – Mainly focused on improvisation Quentin Conrate is a drummer active in contemporary music, musical theater (La Barque directed by Frédéric Tentelier) and different fields of experimental art. His works are often crossing visual art and sound, dealing with space, sound and movement.
Thomas Coquelet – electric harmonium – he started as a bass guitar player in several groups (Chaman Chômeur) and since he has developed different ways to approach other instruments like harmonium, cymbal and tape recorder. With his brother they created the record label Becoq     https://becoq.bandcamp.com/
Mathieu Lilin – saxophon bariton – he is completely focused on improvisation and his music is deeply influenced by the work with Butoh dancers such as Aï Susuki and Gabrielle Weissen. Recently he played in the big band "Fundament" created by Peter Jacquemyn.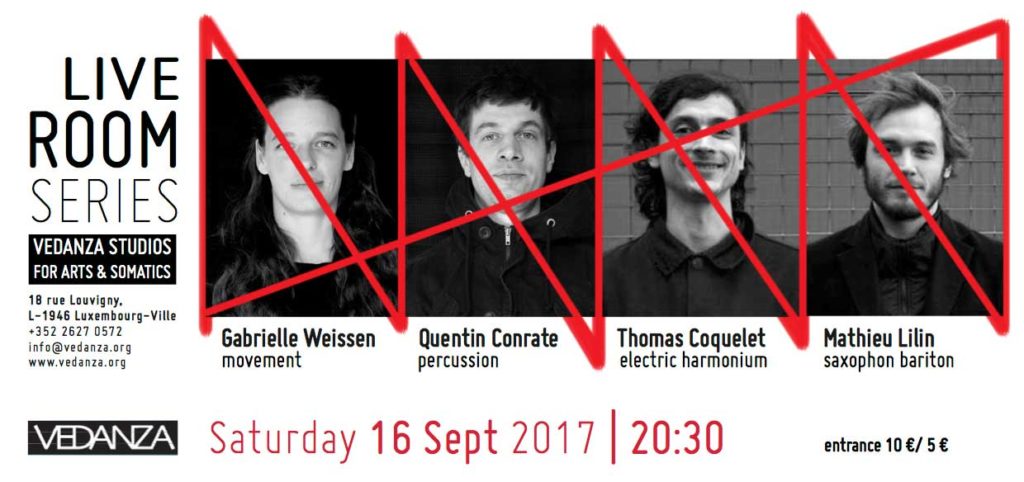 15 July 2017
Performers
Emilie Škrijelj, Emré Sevindik, Rajivan Ayyappan and Franck Hemmerlé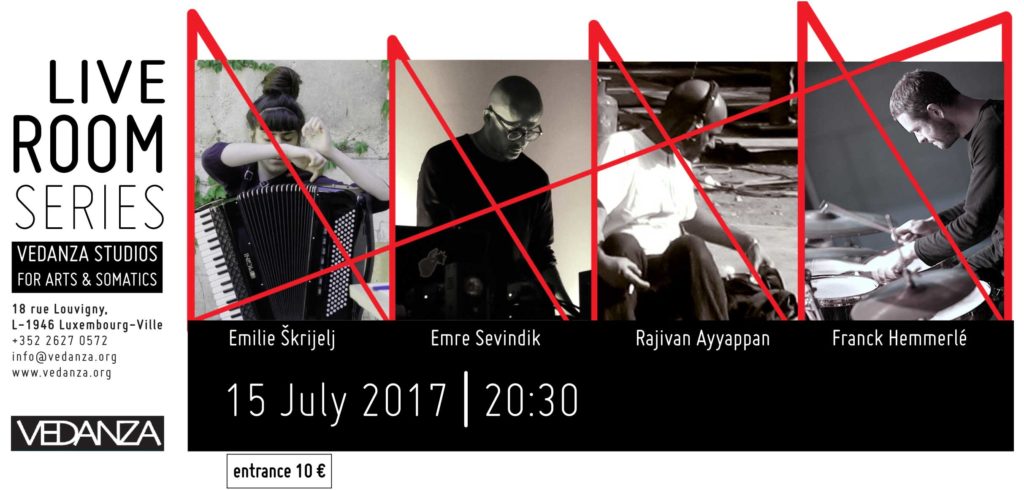 25 March 2017
Three musicians and three dancers meeting…
Tomas Tello, Emre Sevindik, Rajivan Ayyappan, Tania Soubry, Emanuela Iacopini, Florence Augendre.

18 February 2017
Sound-sculptures/performance by Lex Gillen and Laurent Hoffmann
"a nice chilled and grooving atmosphere! " Lex says.
.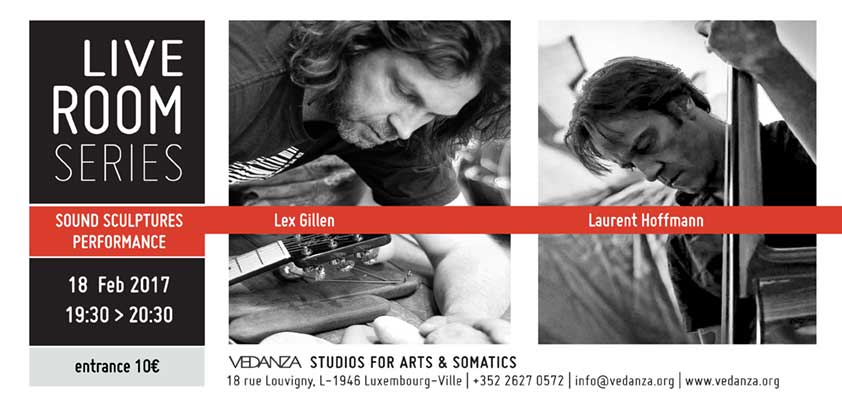 21 January 2017
Denis Jousselin et Rajivan Ayyappan
La nuit juste avant les forêts, une longue phrase  tendue entre un homme seul dans la nuit et son désir de rencontre avec un autre. Proposition de faire se rencontrer les mots de Koltès dit par Denis Jousselin et le son de Rajivan Ayyappan, entendre ce que cela produira …

17 December 2016

19 November 2016

15 October 2016

24 June 2016
27 February 2016

Click edit button to change this text.