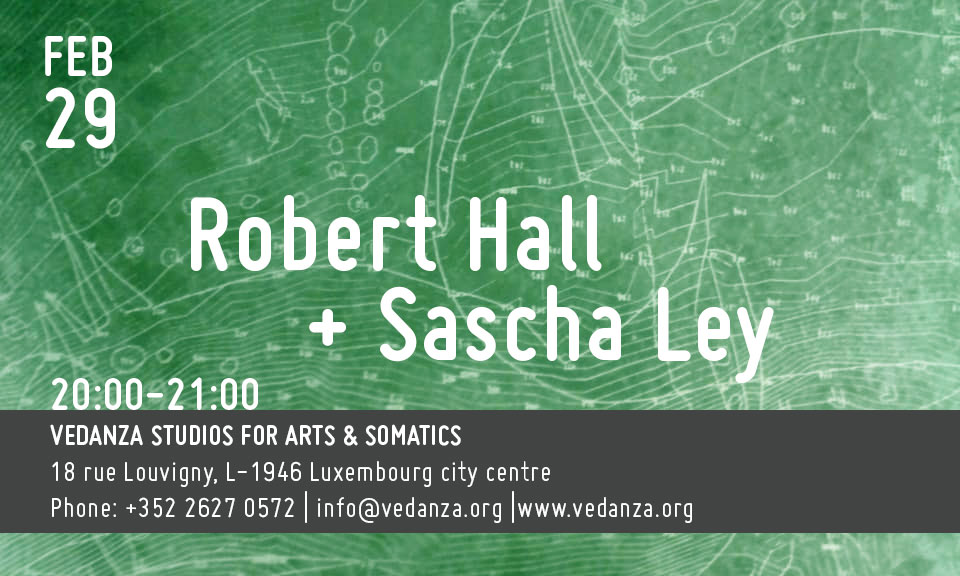 Robert Hall
Robert Hall is an educator, visual artist and musician.
Most recently, he has been performing percussion-based improvisations
at Vedanza Studios, where he has enjoyed collaborating with dancers
Gianfranco Celestino and his contact improvisation groups, Florence
Augendre, Marco di Nardo and Rhiannon Fata Morgan. He has
collaborated as a musician with Franck Hemmerlé, Peter Perfido,
Elisabeth Flunger, Rajivan Ayyappan and Elric Vanpouille, among
others. Robert also plays drum set locally in small ensembles.
Robert's visual works have been exhibited in various countries. His
projects, made for buildings, galleries and public spaces, are developed
through research into the historical, physical and associative aspects of
a site. Projects are often made using unusual and surprising materials.
Some works are based on historical events or characters, most recently
on World War 1, using imagry and sound. His studio practice includes
painting, printmaking, collage and sculpture.
Sascha Ley
As a longtime active artist of the Luxembourgish scene, Sascha combines an acting and music career. The multi-language vocalist, improviser, composer, actress and poet likes walking along unconventional paths in her musical output embracing free and jazz improvisation, imaginary folklore, contemporary music and reaching out for extended vocal techniques. She studied in Amsterdam, Bombay, Luxembourg and Saarbrücken, and is a passionate traveller which frequently reflects in her desire for adventurous ventures in her artistic undertakings. In parallel with music, drama and film works, Sascha has devoted herself in recent years increasingly to composing and writing, creating and directing interdisciplinary performances. www.saschaley.com