Saju Hari's contemporary dance style is an amalgam of his experience as a dance artist working across styles and various concepts. His style is also based heavily on the earthy movement quality of his base training in Kalarippayattu, the Indian Martial art.
Saju will take the participants through a dynamic and creative dance process working with precision, attack and being present through the use of breath. The participants will also have a chance to create small 'movement poetry'  in a non-judgemental and supported environment using the techniques and qualities learned in the workshop.
Previous experience in dance or martial arts practices is recommended as the level of the class is intermediate/advanced.
Days and times:
Sat 14 & Sun 15 Nov 2020
10h-12h
Venue:
VEDANZA STUDIOS
18 rue Louvigny, L-1946 Luxembourg city-centre
Registration:
As participation has been increasingly limited to 4 students, the workshop will be semi-private and in order to cover all costs prices have been reviewed to 100€ for the full fee and 80€ for concessions.
Please book as soon as possible as places are limited !
Full fee: 70€ / Early birds: 60€ if you register before the 19th Oct 2020 / One day only: 40€
Concessions: (Independent artists, students, etc.): 55€ / Early birds: 45€*if you register before 19th Oct 2020 / One day only: 25€
To register, please, send an email to info@vedanza.org and pay the registration fee mentioning "your name + Saju Hari workshop" to
VEDANZA Asbl
IBAN: LU07 0023 1840 7202 8200
BIC: BILLLULL
For more information please contact us at info@vedanza.org
Thank you for spreading the word!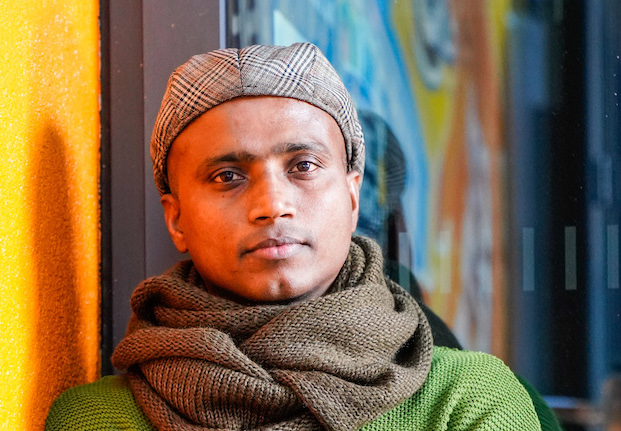 Saju Hari
Indian born dance artist Saju Hari's starting point in dance was the South Indian martial art Kalarippayattu. After Electronics Engineering studies Saju followed his passion for dance, started training and performing in the city of Bangalore, India.
Since moving to London, Saju collaborated with several artists including Shobana Jeyasingh Dance Company, Fabulous Beasts Dance Theater, Akram Khan Dance Company, Sasha Waltz and Guests. Saju currently is in creation with physical theatre company Gecko in the UK as well as working with Vedanza Luxembourg.
As a choreographer Saju created several works including site specific choreographies for Palace Acropolis theatre (Prague), Luftschloss Cobenzl castle (Vienna) and choreographic works commissioned by the Royal Opera House London's ROH2. In 2016 Saju created 'Breaking Joint' which was funded by the Arts council UK.  Recently his installation work 'Impulses of Distraction' was premiered at The Place theatre in London which explored the themes of right to silence in public space.  Enjoying a variety of roles in the field of contemporary dance Saju was a dramaturge for the 'out of the system' programme, part of the Dance Umbrella Festival 2019 in London and have appeared in the dance adaptation of the film A Christmas Carol by Charles Dickens, directed by Jacqui Morris and choreographed by Russel Maliphant.
Saju taught masterclasses and intensives for several dance companies and educational institutions including for disabled and behaviourally challenged groups. In 2008 Saju created 'In the thick of it' a specially commissioned show for schools exploring the themes of bullying and playground politics. Saju taught masterclass at the Impulstanz workshop festival in Vienna.