Two Body System
We explore moving together as an interdependent system, providing and accepting support and opportunities for movement and flight in a constantly changing puzzle.
We explore ease in motion and the pleasure of compression and off-balance.
This Contact Improv workshop will be taught by Karl Frost live on ZOOM while the participants will be able to dance in the space at VEDANZA STUDIOS.
Days and times
Saturday 24 Oct 2020, 12pm-6pm
Venue
VEDANZA STUDIOS, 18 Rue Louvigny, L-1946 Luxembourg-ville
Registration
Fee: 70€
To register, please, send an email to info@vedanza.org and pay the registration fee mentioning "your name + workshop with Karl Frost" to
VEDANZA Asbl
IBAN: LU07 0023 1840 7202 8200
BIC: BILLLULL
For more info please send an email to contactimproluxembourg@gmail.com
Thanks for spreading the word!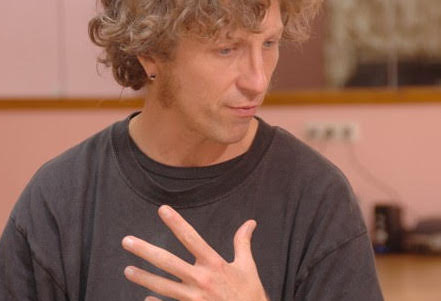 Karl Frost
Karl Frost (www.bodyresearch.org) has been practicing and teaching contact improvisation and related investigations since the late 1980s in California and has shared his work in over 25 countries. He began his movement explorations in martial arts as a teenager, before expanding his studies to somatics, contemporary dance, contact improvisation, and experimental theater. His performance work, via his company, Body Research Physical Theater, explores postdramatic works rooted in somatic psychology and paratheatrical exploration and alternates between stage productions and highly interactive performance happenings exploring audience agency and personal meaning. He is known in contact improvisation for his articulate teaching of both technical details and subtle body-based approaches to sensory and psychological exploration. He has an MFA in Dramatic Arts and a PhD in Ecology, and currently works as an anthropologist at the Max Planck Institute for Evolutionary Anthropology in Leipzig,