Breathing at the Edge is a class that addresses a series of basic postures focusing on concepts of integrity and connectivity. Through the awareness of the breath and the use of simple coordination, we address internal alignment, balance, strength and flexibility as complementary elements. The practice aims at bringing physical and mental relaxation. It includes basic and adjusted yoga asanas, basic principles of pranayama and meditation and is delivered from a scientific and somatic perspective through the exploration of human kinetics, the subtle body, and a wide range of images. It may result in deep, comprehensive, releasing and reinvigorating work to help reduce excessive tension, stress, toxins, excess fat, mood swings and to help restore some peace of mind. The intensity of the class is medium and suitable for beginners.
Emanuela's Yoga practice and teaching are nourished by her scientific and artistic background and have been influenced mainly by Ken Eyerman, the Sivananda lineage, Swami Visharadananda.
Registration
Please send us an email at info@vedanza.org mentioning your name and "online series purchase"
Price and payment details:
9 recorded classes: 90€/ 60€* concessions
*Students, artists, and jobseekers.
Thank you for making bank transfers to:
Name: VEDANZA Asbl
IBAN: LU07 0023 1840 7202 8200
bic: BILLLULL
Contact
VEDANZA Asbl  – info@vedanza.org – Tel (+352) 2627 0572 – 18 rue Louvigny, L-1946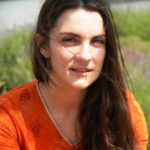 Emanuela Iacopini
is a movement artist active within the international artistic and scientific communities revolving around dance and somatics. She
works for live performances, film, video and in educational settings.
She graduated in dance and chemistry and trained as bodywork and Yoga practitioner.  She is course leader in dance kinesiology and contemporary dance at the Conservatoire of Luxembourg city.
Continuing her post-graduate studies at Trinity Laban London she develops Dance Science oriented movement research, collaborates and performs with Florence Augendre, Annemari Autère, and Frey Faust.
She is founder of the Dance Science Net agency for the dissemination of theoretical and practical knowledge in the field of movement science with a focus on dance training and performance. She co-founded with Rajivan Ayyappan VEDANZA – the company and it's studios in Luxembourg – an artist-led space dedicated to the development, training and performance of contemporary work.
She presented her work at international conferences, festivals and venues across Europe, the US and Asia. Her present focus is on the exploration of fascia as a living matrix to re(de)fine training and performance. www.vedanza.org