"Two to One" a duet extracted from UNDO will be presented at Vitlycke performing arts centre in Tanumshede, Sweden. The performance will be followed by a talk "Implications for Dance of the Science on Fascia" by Frey Faust.
–
"Two to One"
Duet extracted from "UNDO", a contemporary tribute to the moving human body.
"UNDO" was premiered by VEDANZA at the Théâtre National du Luxembourg in
December 2017.
Devoid of a preconceived narrative and based solely on a readiness to follow and
facilitate reactions and responses to off-balance movement and myo-fascial
elasticity, "Two to One" develops from a solo into a duet. The work fully
inscribes itself in the contemporary reality, reflecting on and continuing to pursue the
challenging concerns of post-modern dance artists.
"Passionate about the link between art and science, Emanuela Iacopini continues
her on-going research on fascia with "UNDO". For this original full length work, she
invited choreographer, dancer and pedagogue Frey Faust, a figure of the eighties
New York dance scene and author of the Axis Syllabus, an analytical approach to
movement based on scientific data" (City Magazine, Dec. 2017).
"Very beautiful… something for the greater public!" (Frank Hoffmann, director of
Théâtre National du Luxembourg, 16 Dec. 2017).
"This duet invites the viewer in, which is not always the case with improvisational
structures…" (Bryan Brady, director of the Laban Theatre, London, 20 Dec. 2017)
Past dates:
TNL Luxembourg: 16, 17, 20 Dec 2017
TUFA Trier: 25 Apr 2018
Dansarte, Patras, Greece (informal showing): Aug 2018
Kiisu Theatre, the Old Mine in Outokumpu, Finland on the 25 Oct 2018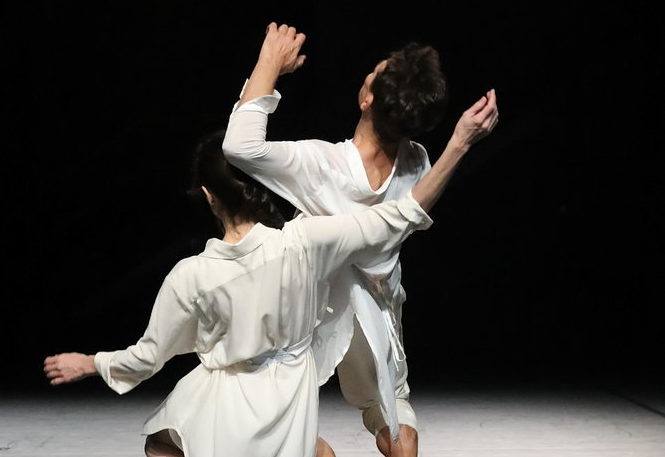 "Two to One" 
Duration: 18 min
Concept: Emanuela Iacopini
Choreography and dance: Frey Faust and Emanuela Iacopini
Music: Rajivan Ayyappan
Light design: Nico Tremblay
Costume design: Michèle Tonteling
Production: "Two to One" a duet extracted from "UNDO", the evening length
work co-produced by Théâtre National du Luxembourg (TNL), Centre de Création Chorégraphique Luxembourgeois (TROIS C-L) and VEDANZA and supported by Tufa Tanz, Tuchfabrick Trier, Hannah Ma Dance, Fondation Indépendance, FOCUNA.
________________________________________________________________