In this Vinyasa flow class we bring attention to our alignment and movement in asanas (poses) within the patterns of our natural breathing patterns of inhalations and exhalations. We learn to work carefully and intelligently in both standing and seated postures. Through our focus on breath, asana, pranayama, and meditation, we learn to create space so that we can learn to move with more ease, grace, and stability and experience the effects of a mindful practice. Ideal for beginners, this class is suitable for everyone seeking to strengthen their foundation.
Days and times
Tuesdays 19h30-20h45
Thursdays 20h-21h15
Sundays (only on 13 & 27 May, 17 % 24 Jun, 15 & 29 Jul 2018): 10h-11h15
This trimester will run from 7th May till the 29th July 2018. There will be no classes on 5th and 7th Jun and on 3rd and 5th Jul 2018)
Venue
VEDANZA Studios, 18 Rue Louvigny, L-1946 Luxembourg-ville.
Prices per trimester
1 day/week: 180€*
2 days/week: 300€*
Any 6 sessions: 120€*
Trial class: 20€*
*concessions 50% off for full time university students / ADEM jobseekers / independent artists
Registration to Vinyasa Yoga classes and Hatha Yoga classes can be combined. You can also make up for a lost class by joining any other class within a month.
Payment details:
To book your place in a course, please send us an email mentioning which day/days you'd like to join, and make a payment in advance by bank transfer. You may also make a cash payment on the first day of the course (but your place may not be booked till then).
Thank you for making bank transfers to:
Name: VEDANZA Asbl
IBAN: LU07 0023 1840 7202 8200
bic: BILLLULL
Contact:
For registration details please contact: VEDANZA Asbl  –  18 rue Louvigny, L-1946 –  Tel (+352) 2627 0572  –  info@vedanza.org
For more information about the class: Sukrita Srinivasan – Email: sukritas@gmail.com – Tel: (+352) 691 306 950
.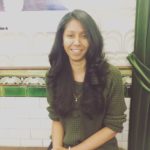 Sukrita Srinivasan
Sukrita

 has been a yoga practitioner since an early age when she lived in India. She was introduced to Ashtanga Vinyasa Yoga in 2012. Her practice and teachings have been under the guidance of Ty Landrum, who has studied directly under Richard Freeman and Mary Taylor. She continues to attend workshops and retreats to deepen her knowledge on the art of yoga and loves to share her understanding with anyone who wants to learn.