Stretching with Classics is organised by Court Dancing Luxembourg/Zsofia Csaba.
"… We use dynamic stretching exercises to warm you up at the beginning of the class and every time when moving on to a new muscle group during the main part of the class, creating the optimal conditions for effective and safe static stretching. We attend to the different muscle groups methodically, paying special attention to the muscles that are likely to shorten as a result of a sedentary lifestyle. We include exercises for improving body-awareness and posture…"
For more information please confront the following PDF
Dates and times
Tuesdays 8-9.30 pm
Inscriptions 
For registration please contact Zsofia Csaba at Court Dancing Luxembourg – info@courtdancing.lu
For prices and information please confront the following PDF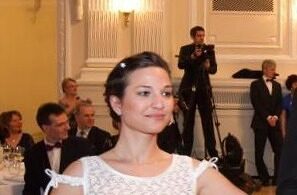 Zsófia Csaba
Zsófia Csaba is a certified dance instructor with a passion for teaching and
performing historical dances. Her dance education is based on classical
ballet and jazz ballet and includes a wide variety of styles from ballroom
dancing through Argentine tango to different European folk dances.
She gives classes and workshops for adults and kids in court dances and
stretching with classical music since 2017. She creates choreographies,
performs in movies, at balls and other cultural events in Luxembourg, and
represents the country abroad with the folklore group Vallée des Sept
Châteaux.
Her wish is to share the beauty of European court dances and the joy of
dancing together. She would like to inspire people to incorporate movement
to classical music into their weekly routine as a social activity that keeps
the body fit while elevating the spirit and pleasing the soul.
– Certified Dance Instructor—Manager of Fitness and
Recreational Programs 
 -Teacher Training Course 2018, 2019: Dance Characters from the
Renaissance to the 18th Century (by Dr Rita Széll, Hungarian Dance
Academy, Liszt Ferenc Academy of Music)
-Former performing member of Pavane historical dance group (12
years)